When you use full-spectrum or broad-spectrum CBD products, you may experience what is known as the "Entourage Effect." The theory behind the Entourage Effect states that, when all the components of CBD work together, you will reap more benefits than if you were just using a CBD isolate. Here is everything you need to know about the Entourage Effect in CBD products:
What is the Entourage Effect?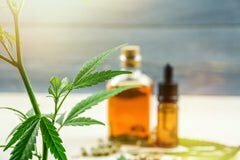 Simply put, the Entourage Effect has to do with the synergistic relationship between CBD and all the other naturally occurring components found within the cannabis plant. When all the cannabinoids and terpenes work together within a CBD product, the consumer will experience optional benefits. It has been proven that full-spectrum and broad-spectrum products work better than CBD isolate products due to this effect. When you take a product that contains multiple compounds of the entourage, your results are typically more effective and predictable.
History of the Entourage Effect
The idea behind the benefits of the Entourage Effect are not new. The term was coined in 1998 by Dr. Ben-Shabat and later expanded upon by Dr. Etahan Russo in 2011. Russo explained how the synergies between cannabinoids and terpenes have resulted in linear, long-term effects for CBD consumers. On the other hand, CBD Isolate has shown to have diminishing results after optimal dosage has been consumed.
What's the Difference in Full-Spectrum and CBD Isolate
It's fairly self-explanatory. CBD Isolate is exactly what it sounds like, in that these products only contain the CBD compound of the cannabis plant. There is no THC, cannabinoids or terpenes found within these products and typically the results of CBD Isolate are more scattered and unpredictable than a full-spectrum product. Full-spectrum CBD products contain amounts of all the components found within the parent plant, including small, legal amounts of tetrahydrocannabinol, or THC. Consumers will typically experience the best results with these products, but if you'd prefer to stay away from THC, try broad-spectrum.
Some of Our Popular Full-Spectrum Products
If the Entourage Effect is something you'd like to experience for yourself, you should check out some of our most popular full-spectrum products that we have in-store and online. From oils to creams and gummies, we have a product for everyone! Try any of our full-spectrum Hemplucid Organic Sublingual oils that range from 250MG to 2000MG. You can also try the Original Hemp Capsules that help with stress, energy and relief.
Now that you know all about the Entourage Effect, you can try out a few full and broad-spectrum products for yourself. Check out all of our CBD products and find the one that best suits your needs today!