You have probably heard about CBD pills that can help with a variety of ailments. They have been proven to combat difficulties such as pain, anxiety, and depression. However, did you know there is a way to get the same benefits without having to swallow a pill everyday? CBD creams are lotions that contain cannabidiol and other healing ingredients. Applying these creams to your skin can help tremendously with pain relief. Here are 3 CBD creams our customers love: 
 1. Myaderm Transdermal Calming Cream 
This cream is great for so many different things. First of all, it is formulated for acne prone skin. There is a blemish control built into the cream that reduces oil production, which leads to less acne. Also, this cream is hypoallergenic so you do not have to worry about it having a negative effect on your skin. Our CBD blemish creams are run through a licensed pharmacist to ensure each one is made with only the best ingredients. You will see results of less acne within the first two weeks of using this product. It is an organic moisturizer that provides lasting results and provides a continuous deep moisturizer throughout your day. The CBD in the Myaderm will help to minimize blemishes and breakouts by reducing the amount of oil production in your skin, which will make you feel happier and healthier. 
2. Hemplucid Body Cream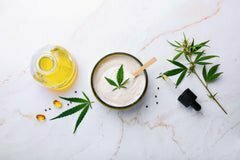 The Hemplucid Body Cream is another CBD product that is great for your skin and provides many amazing benefits. Did you know that your body has cannabinoid receptors in your skin? The hemp extract in the product reacts in the areas that you need it most. Your cannabinoid receptors will react to the body cream and help alleviate different problems, such as inflammation and pain. It helps soothe your skin so you can get back to your daily routine without having to worry about pain. The good thing about the cream is there is not a dosage recommendation you need to stress about. Each person is different and will require different amounts of body cream. Some people only use it once every few days while others fit it into their daily routine. We recommend consistent use to achieve the best results and continued relief. 
3. Hemp Symmetry Hemp Freeze 
If you are in need of a fast pain solution, this is the cream for you. This product is fast acting and long lasting all in one. It is made with 100% USA grown plants, menthol, and natural ingredients that work together to soothe common aches and pains. It is a common product used by physical therapists, chiropractors, massage therapists, and athletic trainers all over the country. It can help all your common pains, such as neck pain, muscle aches, and arthritis stiffness. You can also use the Hemp Freeze as a preventive measure. If you are planning a strenuous workout, simply put some on before and after exercising to prevent waking up stiff the next morning. You will be amazed at how much better you feel in your everyday life when you use this product. 
Now that you know about some of our best selling CBD creams, take a look through more of our products to find the one you are looking for. If you have any questions, feel free to contact us and we can help you take the next step towards permanent pain relief!