If you find that you are often annoyed by dry and irritated lips, a CBD lip balm may be the perfect solution! These ultra moisturizing products work wonders on chapped lips, fever blisters and split lips to restore your lips to their delightful form! The lip balm works so well because it contains anti-inflammatory properties that can help soothe chapped skin, and the oil in the CBD seals moisture in your lips to prevent them from becoming dry or flaky! Here are the top 3 benefits of using CBD lip balm for healthy lips:
Moisturizes Your Lips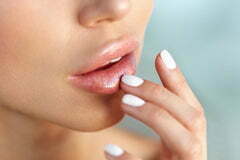 The primary goal of any lip balm is to moisturize your lips because the lips don't have oil glands to hydrate themselves like the skin does elsewhere on the body. Therefore, one of the top benefits of using lip balm for healthy lips is that it provides hydration with ingredients such as beeswax. If you are wondering why not simply use a traditional lip balm, some of these products can do more harm than good! When the thin layer of some lip balms evaporates from your lips, your lips become drier and you may feel the urge to reapply it constantly. However, in the case of CBD lip balms, the CBD oil will seal moisture in your lips and prevent them from drying out!
Repairs Sun Damage 
While it is certainly relaxing to kick back in the sun on a beach vacation, the sun can often wreak havoc on your skin! The first area where you may notice the damage is on your lips, since this is an area of the body often neglected when heading out for a day of fun in the sun!  Since CBD contains antioxidants such as omega 3 and 6, CBD lip balm can help to repair damage related to excessive sun exposure. There are also other nutrients present in CBD balm, such as vitamins A, D and E, that help to nourish your lips while protecting them from the elements.
Reduces Inflammation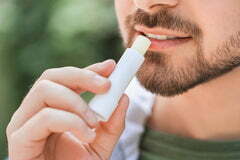 Another one of the top benefits of using lip balm with CBD oil is that it helps to reduce inflammation. After all, CBD is well known for its anti-inflammatory properties that help to relieve pain! Since CBD balm may be effective in minimizing inflammation of the lips, it can also reduce the pain that is associated with lips that are in poor condition. Skin is actually your largest organ, so it's extremely important to take care of it! As a bonus, the CBD oil will help improve the overall appearance of your gorgeous lips!
Other Uses for CBD Lip Balm
You may be surprised to know that CBD lip balm may be beneficial to other areas of your skin as well! Since your skin is your largest organ, it is extremely important to take good care of it and CBD oil can help improve the appearance of your skin. The CBD oil also helps reduce redness, itchiness and swollen areas of the skin, and it can help lessen the symptoms of acne and eczema too. You can even use CBD balms on cracked heels and minor burns!
Now that you know the benefits of using CBD lip balm for healthy lips, check out our lip balm products and all of our other great CBD items for sale! We look forward to helping you achieve a happy and healthy lifestyle!