You probably have heard of CBD oil, gummies, and other products before. One product you may have not heard of is CBD flower. This CBD product is quickly becoming a popular option in the CBD community. We want to share more about this popular CBD product with you, including what it is, some of its benefits, and more. Keep reading to learn more about CBD hemp flower:
What is CBD Hemp Flower?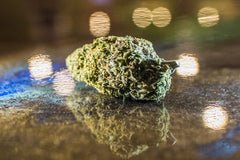 First, we want to tell you what the flower is. Flower is actually the bud of the hemp plant, and it usually looks like dried flowers rolled into a ball. Hemp is part of the cannabis family, but it is different from marijuana. Hemp contains less than 0.3% of THC, which is the psychoactive component of marijuana that gives you a high feeling. Since hemp has such a low THC level, CBD is non psychoactive, meaning it won't create that high feeling.
Effects of CBD Flower
You're probably wondering how CBD affects your body and mind. In our bodies, we have an endocannabinoid system, which is part of the nervous system, that affects different parts of our body, including mood, sleep, and memory. The cannabinoids in CBD enhance certain compounds found in our endocannabinoid system. For example, the cannabinoids in CBD enhance TRPV1 receptors that control important functions like pain perception, body temperature, and inflammation, which could possibly reduce inflammation and provide pain relief. Other effects CBD could have include reducing depression, relieving anxiety, reducing nausea, lowering blood pressure, and much more.
Benefits of CBD Flower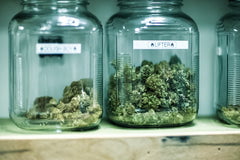 People use CBD for a variety of reasons, because there are a ton of different benefits! If you're trying to find a way to calm your anxiety or relax in general, CBD is a great choice. Since CBD flower is non-intoxicating, you won't feel paranoid or confused. You are more likely to feel relaxed and calm after using this product. Studies have shown that CBD can reduce inflammation in the body, possibly relieve pain, and reduce the effects of seizures. People have also used it for nausea relief, digestive issues, and much more. There are several benefits of using CBD flower!
Ways to Consume Flower
Since you know more about CBD hemp flower, you probably want to know how you can use it. Most people use CBD hemp flower through smoking, and when you absorb the product through your lungs, it will reach your brain faster than consuming products that have to make their way through your liver and then to your brain. You can use a vape pen, use a glass or ceramic bowl, or wrap the flower in papers like a cigarette to smoke it. Flowers can also be used in cooking or baking if you don't want to smoke it. You can create a CBD-infused butter or oil and use it in your dish!
Our CBD Flower Products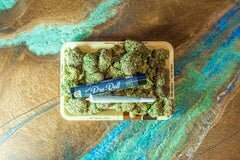 We offer a variety of CBD flower products, so there's something for everyone! Some are skunky in scent and flavor, while others are sweet and citrusy. Not only do we have flower, we also have flower that has already been rolled, and you will find mystery flavor rolls for a fun surprise!
Ready to get into the world of CBD? Browse through our CBD hemp flower products and find the perfect one for you!