Many times, anxiety can cripple us for months at a time. Combine that with just about any level of depression, and you can be left feeling like there is nowhere to turn or escape to. I applaud the strength of those who are dealing with this in their life-in any amount. This is no easy task. But there are options. Even better there are pharmaceutical-free options. One of those is Cannabidiol or CBD. Here is how inhaling CBD products can provide instant relief for anxiety attacks:
Inhaled CBD Travels Through Your Bloodstream Quickly
For instant relief, I like to recommend to start off with a disposable CBD vaporizer. These handy dandy little inventions pack an effective dose of CBD, instantly delivered to your body in need.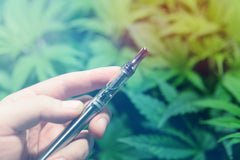 The reason CBD acts instantly when inhaled is simple. Your bloodstream runs all throughout your lungs, and when CBD is absorbed, relief is instant. I recommend trying this method. Next time anxiety is high, you might be pleasantly surprised how quickly you are calmed. The more you inhale, the more relief you get.
The amount of CBD you get on each inhale may differ from device to device, so you will want to consider the severity of your anxiety and ingest accordingly. Go to a reputable CBD Distributor as well to get all the details on CBD dosage and routes to alleviate your symptoms.
Vaping CBD is Simple and Effective
Vaping CBD is a method that lots of people do not consider because of the horror stories of death and lung diseases. Let me reassure you, CBD can actually be good for your lungs! Even vaping a CBD product that also contains the cannabinoid CBG or Cannabigerol can help rid your lungs of bacteria and infection. CBG is known for its antibacterial and antifungal properties. You will still obviously have to get used to the sensation of taking CBD through inhalation, but it is no different than taking Albuterol for asthma, and Budesonide (a common inhalant steroid).
Sometimes inhaling CBD products can have a bad taste just like an inhaler medication or nebulizer, but there are a ton of rather delicious options. The harsh connotations associated with smoking are not present when vaping CBD because of the absence of harmful chemicals and addictive substances.
It's Not the Same as Smoking Weed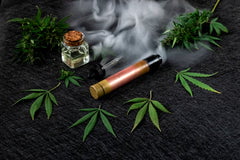 Inhaling CBD via smoking cannabis flower has similarities to vaping CBD, but it is not exactly the same. CBD Flower has NO added terpenes, flavor, or other added cannabinoid compounds. It also has NO pesticides. An average CBD joint (about 1 gram) can have over 100mg of CBD which is actually a high dose considering a dose of CBD oil is usually around 10-33mg. Most people can get two smoke sessions out of a 1g joint. CBD vape, on the other hand is more potent. CBD is concentrated in a gram (sometimes less) and can pack a punch of up to 1000mg! The stronger your CBD vape, the faster you'll get relief, and less you have to hit it. Sometimes CBD Vape companies add terpenes, flavor, and other cannabinoids for added benefits and taste.
How to Properly Inhale CBD
One common question is: How long should I hold the inhale? Some say to hold it in and it works better. Research is showing that is not true at all. Once you inhale anything, one second is ample time to absorb completely. So take a nice deep breath, exhale, and start feeling better. Immediately.
Now that you know inhaling CBD products can provide instant relief for anxiety attacks, you can browse through our vaping products to find which works best for you!