Over the years, studies have shown that CBD can help alleviate a multitude of ailments. Some of the most common things that are talked about when it comes to CBD is how it can alleviate feelings of anxiety and depression. However, something you may not know is that it can also do wonders for a common cosmetic issue. Here is how CBD products can help treat acne: 
How Does it Work?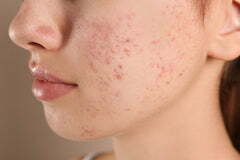 As most people know, acne is a widespread skin condition that can cause painful bumps and pimples on the skin. While there are a lot of remedies out there to help treat this problem, one of the possible solutions is CBD. It has been shown to reduce the amount of inflammation in your pores and decrease the amount of sebum the skin produces. While a certain amount of sebum is good because it coats and moisturizes your skin, too much of it can lead to oily skin and acne.  The effect that CBD has on lowering both inflammation and the amount of sebum in your skin is what can lead to less acne. 
Scientific Studies 
There have been numerous studies done over the recent years that show that CBD products can help make your face be cleaner and healthier. In 2017, a study found that CBD has anti-inflammatory properties. This helps calm the skin and reduce inflammation. A similar study performed in 2014 explored CBD's effects on sebocytes, which are the cells that produce the oily substance in your pores. When a person overproduces sebum, they have more oily skin. This is what leads to acne formation. This study found that CBD helped to stop the skin cells from overproducing sebum, which in turn helped skin become less oily and led to less acne. 
CBD Products for Acne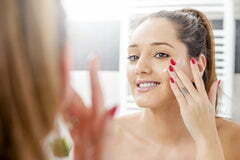 Now that you know how CBD products can help treat acne, you are probably wondering which products you need to purchase. Believe it or not, one of the best things you can buy are the CBD gummies. Because they contain vitamin C, they can help lead to less inflammation of the skin, helping with acne issues. One of the other fantastic products you may want to try is one of our topicals and creams. If you are looking for a specific product, the
Myaderm Transdermal Calming Cream
has been proven to reduce oil production. 
Visit a Dermatologist 
If you are having trouble differentiating between creams or need further advice, you can always go see your local dermatologist. They will be able to help determine the perfect product to help your face become more clear. There is nothing more embarrassing than walking around with bad acne, but luckily with the help of CBD and your dermatologist you can take the next step towards less acne. 
Now that you know how CBD products can help treat acne, you are ready to take the next step in having healthier skin. Be sure to browse through all of our products and talk to your dermatologist for recommendations. If you have any further questions about us or any of our products, feel free to contact us and we can help assist you!