When you think of CBD products, you may just think of oil in a dropper bottle. Oil is a great option for many people, but there are so many different ways you can use CBD, from flowers to edibles. With so many options, you'll find a product that works best for your lifestyle! Here are 7 of our CBD products and the best ways to use them:
1. Flower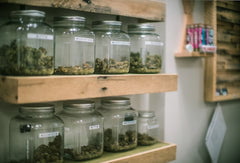 A popular way to use CBD is with the flower. The flower is the unprocessed bud of the hemp plant. In its dried form, flower contains the full amount of cannabinoids, a compound in the hemp plant that imitates a compound in our bodies. These compounds are responsible for regulating certain functions in our bodies, including sleep and mood. The best way to use flowers is through smoking or vaping because it goes straight into the bloodstream after being inhaled.
2. Edibles
If you would prefer an alternative method to smoking, edibles are a great choice. You'll find all kinds of edible choices, from drinks to snacks. If you prefer a more ritualistic approach to taking CBD, our tea or coffee would be a great option. These drinks come in a variety of flavors with the highest quality of CBD in every blend. If you enjoy honey in your tea, we also have CBD-infused honey. Other popular edibles we offer are gummies and chocolates. They come in a range of flavors and strengths, so you'll definitely find one in your favorite flavor!
3. Oils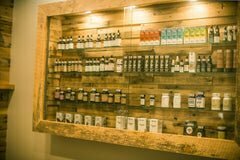 Another CBD product that's pretty popular is oil. You can get a variety of strengths to fit your needs. Oils can come flavored or plain, depending on what you want. Many people will put the oil under their tongues since it absorbs into the bloodstream quickly this way. If you don't want to take the oil straight, you could put it in one of your favorite cold drinks or on top of a snack.
4. Vape
Similar to flowers, vaping is a CBD product many people turn to for its convenience. If you already use a vape pen and want to get into the CBD world, it's pretty easy! You could get plain CBD or try one of the flavored cartridges. Vaping allows the CBD to absorb into your bloodstream quickly when it is inhaled, just like with flowers.
5. Topicals and Creams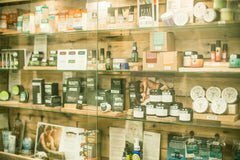 Topicals and creams are useful for localized areas of the body. Many people use it on their hands, elbows, legs, neck, and other areas of the body. These kinds of CBD products are used by people who have pain in their joints or muscles for relief or by people who want an extra way to relax. Some of the products we have include body creams, roll-on oils, lip balm, and lotions.
6. Concentrates
Concentrates are products derived from the plant that have been processed to only keep the cannabinoids and terpenes and get rid of the impurities and undesirable parts of the plant. These products can increase the potency of the CBD, making you relax or providing relief quickly. Concentrates can be added to vape pens and bowls when you plan on smoking for an extra punch.
7. Capsules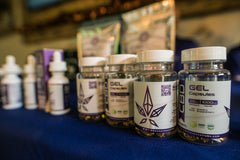 If you already take pills or prefer to take CBD in a pill form, then capsules are the best CBD product for you. Our soft gel capsules already have a measured amount of CBD in them, so you'll know exactly how much you are taking every time. We have a variety of strengths for everyone, and you'll love being able to track your CBD intake easily.
With all of these different ways you can take CBD, you'll find a method that's perfect for you! Look through our CBD products to see which one would be best for you!