If you're just now getting into CBD or you're just looking for some new products to add to your routine, we have some recommendations for you! At Charlotte CBD, we carry a huge variety of products that can assist you in any of your needs, whether that's pain relief, anti-anxiety or inflammation. Here are 6 fan-favorite CBD products that you should try:
1. Crowntown Cannabis Hemp Flower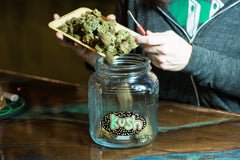 Crowntown Cannabis is one of our most popular brands at Charlotte CBD and they are known for their amazing hemp flower products. They offer a wide range of flavors, including Hawaiian Haze, Sour Space Candy, Gelato, Citrus Fire and more. This lab-tested and certified product contains industrial hemp and a delta-9 THC concentration of no more than 0.3%. If you prefer to smoke your CBD products, Crowntown Cannabis hemp flower is a great option for you!
2. Apothecary Brothers CBD Hemp Tea
Did you know that you can drink your CBD? When you try Apothecary Brothers CBD hemp tea you can! This CBD infused herbal and caffeinated tea is handcrafted in Portland, Oregon. Made with the highest quality ingredients, this CBD tea is absolutely delicious and a legal alternative to cannabis tea. Choose from flavors like Golden Dream, Mellow Mint, Buddah's Berry and Chai Awakening. Sip on this tea before bed or as you're getting ready in the morning and experience the calming elements of this amazing product.
3. Giraffe Nuts CBD Infused Caramels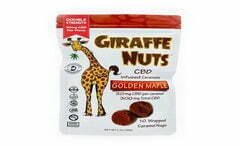 Giraffe Nuts knows how to make CBD delicious! With their 30MG CBD infused caramels, you can experience a sweet treat, all while enjoying the benefits of a quality CBD product. All of these caramels are THC free and packed with health benefits. Giraffe Nuts offers flavors like Creamy Vanilla, Smooth Chocolate Chew, Cocoa Espresso, Top Shelf Scotch and Maple. 
4. Hemplucid Sublingual Oil
CBD oil is one of the most popular CBD products on the market right now and Hemplucid is producing quality oil that we guarantee you'll love. Their full-spectrum sublingual oils are nutritionally enhanced with organic coconut-derived MCT oil. The slow-and-steady absorption of this product makes it great for those who are just starting CBD. being a full-spectrum product, these oils do contain a legal amount (less than 0.3%) of THC. For those who prefer to stay away from THC, Hemplucid does offer some broad-spectrum oils as well. 
5. Pure Relief Delta 8 Gummies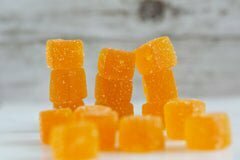 Gummies are also a great product for those new to the CBD game! Pure Relief produces some amazing delta 8 gummies that will have you feeling relaxed and will alleviate your anxieties within a short period of time. Take one gummy orally and then wait an hour before increasing dosage as necessary to reach desired effects. We recommend taking these gummies daily and avoid exceeding suggested use. If you are already taking other prescribed medications, you should talk to your doctor before starting gummies. Pure Relief offers flavors like Zaza Berries Mix, Mango Punch, Blue Razz, Strawberry Slushee and Watermelon. 
6. Myaderm Transdermal Pain Cream
Unlike topical creams, Myadern Transdermal Pain Cream is quickly absorbed and penetrates through the skin to reach the points of pain. Using CBD therapeutic properties and transdermal technology, this cream produces fast acting results that will leave you feeling relieved. Myadern makes their creams with pure CBD and high-quality pharmaceutical  ingredients. This non-greasy, fast-acting cream contains no THC and produces a fresh citrus scent. 
Now that you know about some of our most popular CBD products, you can find the right one for yourself and your individual needs. Looking for something a little different? Check out all of our products and search for your perfect CBD match today!