Whether you have chronic pain or just the occasional soreness, CBD products can help you! We are proud to carry multiple products that can help relieve pain and give you the ability to live your life without constant soreness or aches. If you're still looking for the product that is best suited for you, we have a few recommendations. Here are 5 of our CBD lotions for pain that you'll love: 
1. Sana Botanicals Soothe Salve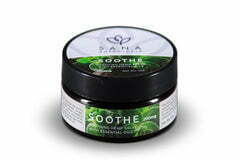 Sana Botanicals Soothe Salve is one of their most versatile products and works on a wide range of issues. From improving skin conditions to assisting with eliminating joint pain, this is a multi-use product. If you are struggling with either gout or psoriasis, we highly recommend this salve for you, as it is proven to have quick and effective results on these conditions. A little goes a long way, so only apply around a dime size portion of salve directly to the affected areas.
2. Myaderm Transdermal Pain Cream
Using cutting edge transdermal technology, coupled with CBD, the Myaderm Transdermal Pain Cream is a great choice for relieving pain. If you're worried about using CBD products that contain THC, this cream would be a good option for you. With no THC and a fast acting formula, this CBD lotion for pain provides relief in minutes. This product is non-greasy and will absorb very quickly, leaving behind a fresh citrus scent and less pain.
3. Peaceful Warrior Massage Oil
If you frequently experience muscle soreness, joint stiffness and nerve pain, the Peaceful Warrior Massage Oil is a great product to try. Filled with full spectrum CBD rich distillates, this oil can be used all over and will have you feeling more like yourself in no time. In addition to CBD, this product also contains glycerin, a blend of plant oils and more, all to create a great blend of pain relievers.
4. Hemplucid Body Cream
If you're just getting back from the gym or a long day of physical exertion, applying some of the Hemplucid Body Cream can help avoid soreness and stiffness later on. While this product can be incorporated into your everyday self-care routine, it's a great way to target spots that tend to get more sore after a long day. Filled with lots of vitamins and natural ingredients, this CBD lotion for pain is great for soothing.
5. Gemstonz Relief Pain Salve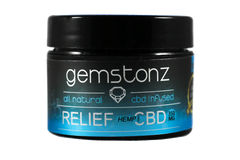 Whether you're fighting off dry skin or nerve inflammation, make sure to give Gemstonz Relief Pain Salve a try! Using CBD, emu oil, natural butters and more, this award-winning product uses only the best ingredients to create the relief you're looking for. The reviews for this product rave about how Gemstonz has created one of the best pain relievers on the market, so get some for yourself and try it out today!
Now that you know a little more about some of our best CBD lotions for pain, you can find the one that works the best for you! Looking for something a little different? Check out all of our other CBD products and find exactly what you're searching for.